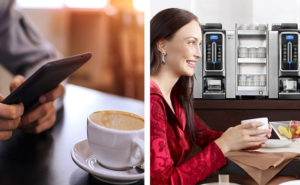 If you have decided that now is the right time to invest in a commercial coffee machine for your business, this article provides you with some things to consider when making your choice. Whether you are looking to provide your staff with easy-to-make coffee in the office or intend to sell cups of coffee in a restaurant, café, bar or other customer facing environment, it's important you select the best coffee machine for your business.
Consider the type of business you own or manage
A coffee machine which is well-suited to an office, golf club or leisure centre might not be what is required in a restaurant or café. This not only comes down to personal preference but also practicality and whom the coffee machine is intended for i.e., staff/clients or customers.
There are two main types of coffee machine, bean to cup and traditional. You can look at the differences between the types of machines in more depth here. To put it simply though, a bean to cup coffee machine provides coffee at the press of a button. This machine is filled with coffee beans and powdered milk and can either be plumbed in or operate via a refillable water tank.
Traditional coffee machines, also known as espresso makers, are operated by baristas. The coffee is made when hot water passes through the compacted coffee grounds. Traditional models are not as straightforward or time efficient as bean to cup machines, but they might still be the best choice for your type of business.
What is the best coffee machine for my office-based business?
Many types of businesses are office based. These include law firms, accountants, call centres and creative agencies. In this type of office environment, a bean to cup coffee machine is the obvious choice. With this machine, your staff will be able to make themselves a cup of coffee in as little as 30 seconds. Unlike traditional machines, they will require no training either.
In every office there will be people who have different preferences when it comes to the types of coffee and hot drinks they prefer. Bean to cup coffee machines provide an array of drinks including Espresso, White Coffee, Americano, Cappuccino, Latte, Mocha or Flat White, Hot Chocolate and also hot water for a cup of soup or tea.
What is the best coffee machine for self-service areas in hotels, restaurants, golf clubs and leisure centres?
If you own or manage any of the businesses listed above, you will want a coffee machine your customers can use with ease. Once again, a bean to cup coffee machine is the better option for these types of situations.
A bean to cup coffee machine enables people to help themselves to cups of coffee, reducing waiting time. If you are looking to make a profit from your coffee machine, the addition of a coin operated unit will allow people to pay as they go.
What is the best coffee machine if I want to sell coffee over a counter?
If you own/manage a café, restaurant or bar and want to sell coffee over the counter, either a bean to cup or traditional coffee machine is suitable. With a bean to cup machine, you will be able to make the coffee quickly and your staff will not need to be trained baristas.
However, traditional coffee machines look amazing and provide a real sense of theatre when a coffee is being adding to the experience for your customers. This is why many owners of bars, restaurants and cafes choose traditional espresso makers.
Looking to buy, rent or lease a commercial coffee machine in the North East?
If you have decided that now is the right time to acquire a commercial coffee machine for your business, you have arrived ay the right place! Amore Coffee are commercial coffee machine suppliers who cater for all types of businesses throughout Newcastle, Sunderland, Middlesbrough, Northumberland, Tyne and Wear and everywhere in between.
You can buy, rent or lease commercial coffee machines from Amore Coffee, with a wide range of flexible payment plans aimed to suit the needs and aspirations of your business. If you would like to discuss your options further or arrange a free on-site visit, then please get in touch.