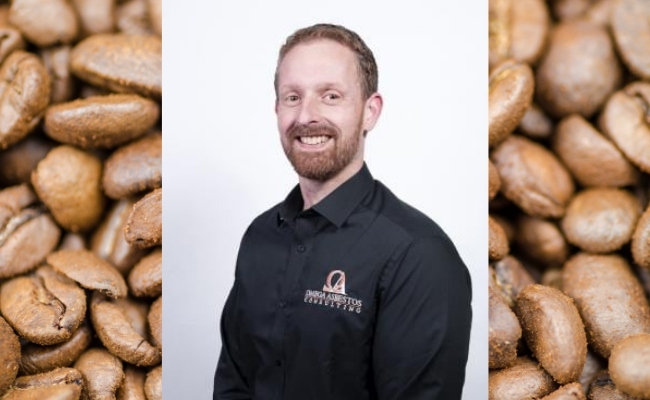 Amore Coffee have been serving Omega Asbestos Consulting for over a year now. We've had a fantastic working relationship this whole time and we wanted to write an article about them on our website. We asked their Managing Director, Gary McKendrick, a few questions about coffee, office life, and about starting up a business in the North East. As always, Gary was generous with his time and was happy to talk to us.
Amore Coffee: Gary, thanks for talking to us. First off, it's probably best to ask you what made you consider getting a coffee machine for your business in the first place, and what was it like before you got one?
Gary: Being a coffee lover and having a decent machine at home, I was getting tired of boring old instant at the office, where I of course spend a lot of time.  So perhaps a selfish move for the gaffer but I also wanted to give something nice to the staff.  We now have non-coffee drinkers who now drink coffee because it's quality stuff.
Prior to the Amore Coffee machine, we used a plumbed in hot-and-cold water dispenser but the hot water was never quite hot enough so the kettle was ultimately used instead.  So every round of drinks took a long time and included washing up as there was always a pile of mugs to wash. Now we use paper cups so making a coffee is a simple press of a button and no mess.  Of course, paper cups add to waste but we each re-use the same cup throughout the day in an effort to reduce waste.  They are good cups so last the day no problems.  It has saved a lot of time in preparing drinks as it's a push of a button for a quality coffee. There's no washing up needed to be done and the benches don't get dirty with spilled instant coffee and milk.  So the kitchen is a lot tidier these days. All the staff appreciate the machine, even the once non-coffee drinkers! Clients also comment on the quality of the coffee too.
Amore Coffee: How do you think the UK, or perhaps just the North East of England, is changing its attitude to coffee?
Gary: Coffee is the new tea! I think the UK has hugely changed its attitude to coffee over the last 10 years – just look on the high street and retail parks: there are coffee shops everywhere.  Pubs and hotels, cinemas, gyms – you name it – they all try to do a decent coffee.
The North-East has embraced coffee as much as anywhere in the UK.  We're all now coffee connoisseurs and want that barista experience at home too; all the pod machines you can buy, or the beans, the grinders; the milk frothers – we're all coffee mad.  Mind, flavouring coffee with syrups should be made illegal.  That is plain wrong!
Amore Coffee: What is it about Amore's Coffee machines and our service that you would recommend to other businesses?
Gary: The Amore Coffee machine is a great compact unit which gives us a range of quality coffees at our workplace at the touch of a button.  Simon routinely calls into the office to check and maintain the machine and makes sure our stocks of beans and milk powder are replenished.  Simon is a great guy who I have got to know very well and have a sound relationship with; he's a genuine good geezer. He has got to know all the staff well too.
I remember the first time I met Simon and Sep at a North-East business trade show. I was naturally drawn to their personalities and enjoyed the free coffee too.  I had actually just had a coffee from another coffee machine supplier but walked away unimpressed with the coffee and the sales patter.  I then checked out the Amore boys' and had some good banter and good coffee so I decided to take it further after the event. Simon came to our office, we had a good honest chat with plenty laughs and he sorted us a good deal on our machine.
Amore Coffee: We've perhaps asked enough about coffee. Let's talk about your business. How long has Omega Asbestos Consulting Ltd been running and how do you think running a business in the North East might differ to other parts of the country?
Gary: The business was formed in June 2010 to get away from the corporate dull world and put the energy, passion and fun back into what we do.  People like to deal with likeable people regardless of what you sell.  We deal with clients over all the UK and find that they do like to deal with us friendly folk in the North-East.  Folk in the North-East are good old fashioned grafters so not afraid to muck in and go the extra mile.
Amore Coffee: Given your recent success, have you any advice for someone looking to start a business in the North East?
Gary from Omega: Find a market gap and fill it.  This doesn't necessarily need to be something new; it just needs to be something better or different.  Do your homework first, though. Then go for it.  Take a risk.  You'll fail 100% at everything you didn't try.  If you're even thinking about starting a business, then you're half way there; challenge yourself and change your life.
It's not easy.  If it was then we'd all be our own boss.  Be brilliant at what you do; offer value and make people remember you.  It's a long game but played well, it will serve you.  The North-East is a thriving place for a business; a great source of skilled people and a great source of people willing to upskill and constantly learn.
Amore Coffee: Thanks. That's great advice, and Omega Asbestos Consulting is obviously doing really well, so it's advice worth taking. Is there anything you do to differentiate Omega from its competitors?
Gary: We offer a more personable service and never forgot our client always has a choice; they can always go to one of our competitors instead. It's important to make an impression and to make every touchpoint between Omega and our clients a positive experience.  People remember experiences more than words or actions.
Starting up a business is a tough thing, and it is always useful to take advice from businesses who've made it. So we'd like to thank Gary for answering our questions, for telling us about his company and about how our coffee has changed the Omega office. If you're interested in Omega Asbestos Consulting Ltd's services, you can get in touch with them here.  And if you're interested in getting the same coffee machine as Omega's for your office, they rent the Koro Max bean-to-cup coffee machine, ideal for offices.